Stencil Stuff Transfer Lotion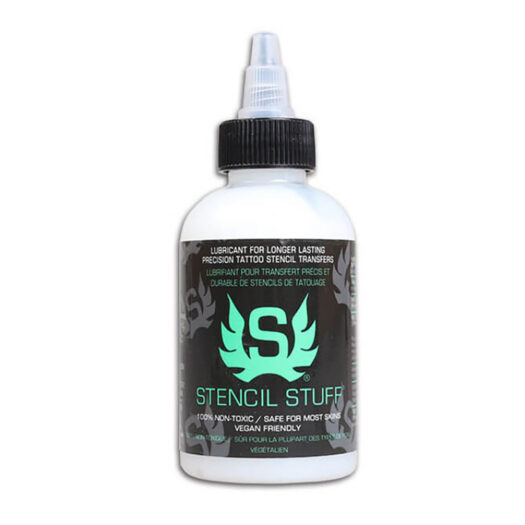 Stencil Stuff Transfer Lotion
Stencil Stuff was developed in 2005 by professional tattooists who knew there had to be a better way to apply detailed, precise stencils. Stencil Stuff is a creamy lotion that was formulated in the laboratory . Non-toxic and safe for most skins.
Stencil Stuff makes the transfer sharper than with any other traditional method and eliminates the possibility of cross-contamination. It also works exceptionally well when outlining is needed or desired.
Instructions
1 Pour a small amount of Stencil Stuff solution into a gloved hand and spread evenly over the prepared surface until the surface is damp but not wet.
2 Apply the stencil to the surface and hold for 3 to 5 seconds.
3 Remove the stencil and allow it to cure for approximately 8 to 10 minutes, the surface is now ready.
4 While working on the tattoo: Work from bottom to top, wiping away excess tattoo ink occasionally. Avoid excessive wiping.
Read more
Product Specifications
| | |
| --- | --- |
| Inhoud | 125ml | 250ml |
| SKUs | WS158 | WS159 |
Read more
Share your thoughts!
Let us know what you think...
View or write reviews